Frank Gehry's Rhapsody in Steel
Washington Post October 19 2003
"The gentle beauty of the new Walt Disney Concert Hall -- surprisingly -- sort of sneaks up on you.
Possibly this is because you think you know what to expect. You have been beguiled by images of assertive, wildly sculptural buildings by its famous architect, Frank Gehry, for so long that somehow you are lulled into thinking you've already been there, done that.
Yet nothing quite prepares you for Disney Hall's serene, evanescent qualities. The building is indeed a dynamic sculpture in the cityscape, but it entices rather than asserts. Its lilting abstract geometries flow seamlessly into one another, and its billowing walls, pieced together out of 10-by-4-foot sheets of stainless steel, seem alternately to reflect and absorb the changing natural light."
New concert hall a sensuous spectacle
San Francisco Chronicle October 19 2003
"But savor what actually exists: a sensuous spectacle to be relished and explored. Someone who never buys a ticket can discover hidden terraces 70 feet in the air, or lean against the thin steel panels that frame the travertine stairway that sweeps upward from the corner of Grand Avenue and First Street. Disney Hall offers triumphant proof that architecture can thrive as an interactive part of the larger culture around it -- not merely an object of contemplation.
Gehry takes great pains to stress that this is, above all else, a place to hear the philharmonic's demanding classical music. But while the actual hall is a visual and aural treat, what is attracting attention is the show being conducted outside."
SanDiego union-Tribune October 19 2003
"It rises out of the pavement like some huge, exotic plant, the sweeping curves of its stainless steel walls glinting in the Southern California sun.
It practically screams that it's architecture with a capital "A." But Walt Disney Concert Hall is much more than that."
Disney Hall's Nearly Unfinished Symphony
Walt Disney Concert Hall Timeline
Los Angeles Downtown News October 20 2003
"It's a nice piece of work, but in looking at the final production, and revisiting the steps along the way, one should remember that Disney Hall was frighteningly close to an unfinished symphony."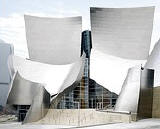 Los Angeles Downtown News October 20 2003
"The organ's standout feature is its 6,125 pipes. The longest pipe measures more than 32 feet and the heaviest weighs over 800 pounds. The smallest pipe is less than a quarter-inch long. The instrument is powered by three wind blowers whose motors total 13.3 horsepower.
The facade's stainless steel panel system is comprised of more than 500,000 pieces. Some 180,000 square feet of high-polished stainless steel panels are on the exterior. The rest of the structure contains 12,500 pieces, or 11,000 tons, of primary steel.
There are 18,000 yards of concrete and 300 tons of blots and welds in the building. On a brighter note, there are 117 types of light fixtures in the building, and 4,100 lights. More than 50 miles of conduit run through the hall.
Construction workers have clocked roughly 2 million hours since the project got underway. Which helps explain why the building costs some $274 million."