Perl's Architecture Weblog

2005 May

Associate Professor Robert D. Perl, AIA

Freshest postings at top.

Go to the bottom of the page for links to 500+ earlier Weblog entries.
Pataki and Bloomberg Endorse Changes in Ground Zero Tower

New York Times May 5

"People involved in the rebuilding process say that the tower, unveiled 18 months ago as the product of a contentious collaboration between two world-famous architects, is likely to lose its signature twisting form, along with its distinctive spire - a conscious reflection and reply to the Statue of Liberty's upraised arm in New York harbor. Mr. Pataki, his aides and others stressed, however, that the Freedom Tower would not be reduced to an unsightly, fortress-like bunker, and that it would be built on the same general location planners had long ago settled on."

Wall Street Journal May 4

"Three and a half years after the World Trade Center collapsed under terrorist assault, a big chunk of the $4.6 billion in insurance money has been spent. Yet the only things rising on the Ground Zero site are projected costs and tensions between the many interested parties."
---
---
TTU College of Architecture Convocation

More than $45,000 was awarded to 57 students during the Annual Convocation held April 25 in the Architecture Gallery. The audience of several hundred included donors, friends, and family members. The ceremony acknowledged recipients of scholarships, student prizes, and faculty awards.

In this photograph, Professor James White announces Clay Cristy as the recipient of the Willard B. Robinson Memorial Scholarship presented by Assist. Prof. Stan Robertson. Dean Andrew Vernooy watches along with faculty members Dr. Clifton Ellis, James Watkins, David Driskill, and Kristina Yu.
---
New Urbanism Lecture

In this photograph, Architect Steve Oubre, the H. Deane Pierce Visiting Regents Professor, gives a slide presentation to students, faculty, and local professionals titled "New Urbanism" on April 27th.

The H. Deane Pierce Visiting Professor Lecture is made possible through a generous gift from F. Marie Hall.
---
Five Bedrooms, Pool and Custom-Built Skyspace

New York Times April 24

"Almost everyone likes a good sunset, but few take it quite as seriously as the Los Angeles art collectors Cliff and Mandy Einstein. For the last 15 years, on a nearly weekly basis, they have invited friends and colleagues to their Brentwood home to share in an unusual predinner ritual. The action takes place in the backyard inside a "skyspace" by the artist James Turrell. From a distance, it looks like a cutting-edge mausoleum. In fact, it's a celestial viewing room designed to create the rather magical illusion that the sky is within reach - stretched like a canvas across an opening in the ceiling. At sunset the colors, intensified by artificial light in the room, are spectacular."

From the Nasher Sculpture Center Dallas:

"Tending, (Blue) by James Turrell, is the only site-specific work commissioned as part of the sculpture garden. Turrell's free-standing "skyspace" is situated at the north end of the garden, partially recessed in a landscaped berm."

The Nasher Sculpture Center website includes detailed drawings, photos, and text describing their building and its architect, Pritzker Prize winner Renzo Piano.
---
Vincent Scully announces retirement after 57 years at Yale
Yale Herald April 22
"Scully's influence, however, extends far beyond Yale's Gothic gates. He is internationally renowned for his teaching, having lectured all over the world and served on numerous international design juries. Famed architect Philip Johnson once called him "the most influential architecture teacher, ever." "
Professor Robert Coombs was one of Scully's students at Yale in the late 1960s. Coombs taught history in the TTU College of Architecture for 13 years before his death in 2001.
---
An Architect Embraces New York

New York Times April 23

"Spanish architect Santiago Calatrava has two major New York City projects: the $2 billion transportation hub for ground zero and a residential tower comprising 12 cantilevered cubes on South Street, overlooking the East River. In October, his sculpture, watercolors, drawings and architectural designs are to be shown at the Metropolitan Museum of Art."

"That show, to open Oct. 18 and run through Jan. 22, is organized by themes that run through both Mr. Calatrava's art and his architecture - stacked cubes, wings and bird images, waves, Cycladic forms, the eye. "Our point is to show the clear and fascinating relationship between his independent sculptures - exercises in pure form - and his subsequent buildings and bridges and works for which he's best known," said Gary Tinterow, the Met curator in charge of 19th-century modern and contemporary art."
---
Chicago Tribune April 11
"In the late 1990s, representatives of the Illinois Historic Preservation Agency, which holds the state's 47,000-piece Lincoln collection, visited existing presidential museums and asked their directors what they would do differently. Their answer: Design the exhibits first, and wrap the building around them. That would avoid flashy but unfunctional "signature buildings."
Following that illogical logic, which ignores the way architects and interiors routinely cooperate to resolve form with function, the IHPA first chose the exhibit designer, BRC Imagination Arts of Burbank, Calif., whose chairman, Bob Rogers, once worked for Walt Disney Imagineering. It then selected the architect, Gyo Obata of St. Louis-based Hellmuth, Obata + Kassabaum."
Strumming the Mystic Chords of Memory
New York Times April 19
"It is not Abraham Lincoln's handwritten copy of the Gettysburg Address that is getting all the attention here, nor is it one of his stovepipe hats, still bearing the marks of his fingers where he regularly reached for its brim. Not even the white gloves found in his pocket after he was shot by John Wilkes Booth lure many viewers.
These objects may bear the ghostly traces of Lincoln's touch, but would a $90 million museum have been built to house them? Would $54 million of that sum have gone to the design firm BRC Imagination Arts (which describes itself as the creators of "21st-century experience-based attractions"), if the usual museum display cases were the main experience being offered? ...
Not likely. Something more is being promised by the new Abraham Lincoln Presidential Museum, a building designed by Gyo Obata."
Well... at least they mentioned the architect.
---
Culture of celebrity embraces pop-star architects

San Francisco Chronicle April 7

"Big news: Architects have finally made inroads where it counts -- American pop culture. I know. I saw one on "The Simpsons. And not just any Frank Lloyd Wright wannabe, no sir. This was Frank Gehry in all his animated glory, designing a right-angles-be-damned concert hall for Springfield, hometown of Bart et al.

Which shows two things. The notion of architects as celebrities has taken hold in American society; at the same time, the impact of the trend beyond name recognition goes only so far -- and it is ripe for ridicule along the way."

TV Tome

"The family visits Shelbyville and are appalled at the perception those citizens have of the inhabitants of Springfield. Back in town, Marge brings it to the attention of the Springfield Cultural Advisory Board and then asks architect Frank Gehry to design and build a new Springfield cultural center. He sees inspiration in her request and submits a design that is approved by the town. $30 million dollars later, the project is built and it opens and closes quickly as nobody in town really cares for classical music. Mr. Burns agree to take over the space, with his plan to turn it into a state prison."

"Cut to Santa Monica. Gehry strolls to his mailbox, a Gehryesque tumble of odd angles, and pulls out Marge's letter making Springfield's case. Gehry rolls his eyes, wads up the letter and tosses it on the ground, only to stare transfixed at the crumpled paper that looks uncannily like ... yes ... a Frank Gehry building!"
---
Theatre's complex design coming clear

Dallas Morning News March 28

"Designed by Rem Koolhaas and his Office for Metropolitan Architecture, the Wyly Theatre is still a discrete object – nothing new here – yet the version being unveiled today at the Dallas Museum of Art, as part of its Spotlight Presentation Series, has personality and pop thanks to an extruded aluminum skin that recalls a pleated theater curtain. The folds filter and bend the light, allowing audiences glimpses of the city and passers-by a chance to peer deep into an elaborate performance machine.

The Wyly looks like nothing in the Arts District, or anywhere else for that matter, which is just fine with the adamantly acontextual Mr. Koolhaas. He likes buildings that are mysterious and hard to place, that might be anything and anywhere."

Latest designs for Wyly Theatre detailed at DMA

From the outside, it's just a cube ...
... and the inside doesn't work, either
---
Staircases in Twin Towers Are Faulted

New York Times April 6

"The staircases in the twin towers - their number, location, and the weak walls around them - emerged as critical factors in the deaths of many of those killed in the Sept. 11 terrorist attack on the World Trade Center, according to a federal safety report released yesterday. The findings will be used to shape federal recommendations for building-code changes across the country.

And after more than two years of intensive research, investigators uncovered what they said was an elementary shortcoming in the trade center towers: neither building had enough staircases to meet any of the major building codes in the country, including New York City's."

National Institute of Standards and Technology:

Latest Findings from NIST World Trade Center Investigation Released "87 percent of the WTC tower occupants, including more than 99 percent below the floors of impact, were able to evacuate successfully."

Presentation by Shyam Sunder at April 5, 2005, Public Briefing 6.95MB pdf, 132 slides

Slides 19 and 115 below: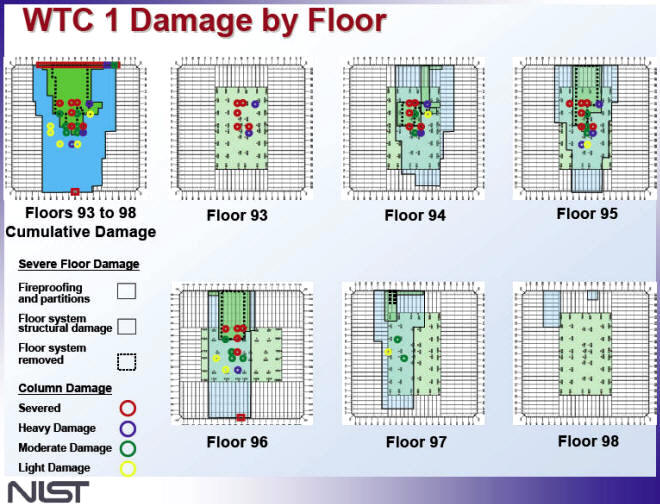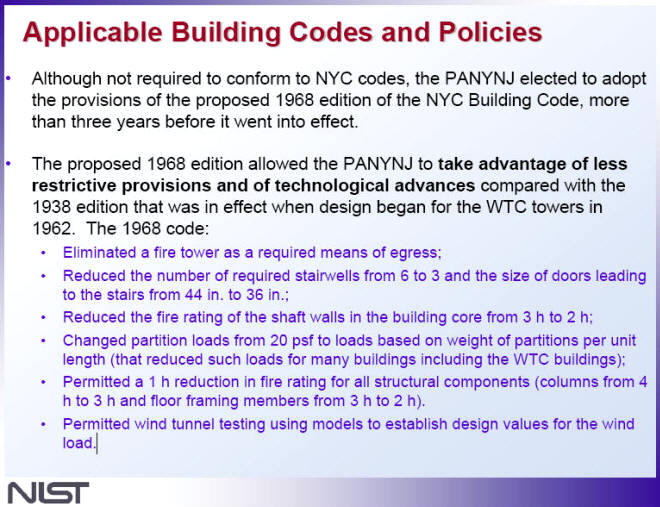 ---
Perl's Architecture Weblog March 2005
Perl's Architecture Weblog January 2004
Perl's Architecture Weblog earlyDecember 2003
Perl's Architecture Weblog late November 2003
Perl's Architecture Weblog mid November 2003
Perl's Architecture Weblog early November 2003
Perl's Architecture Weblog late October 2003
Perl's Architecture Weblog mid October 2003
Perl's Architecture Weblog early October 2003
Perl's Architecture Weblog September 2003
Perl's Architecture Weblog Summer 2003
Associate Professor Robert D. Perl, AIA
AH 1002D Office Hours: T 1:30-4:30 pm or by appointment
742-3169 x248 robert.perl@ttu.edu