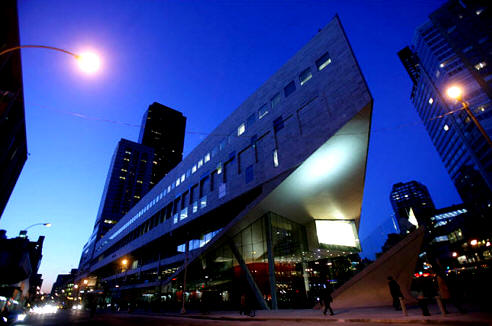 Boxy to Bold: A Concert Hall Busts Out
New York Times February 19
"The freshness springs from the architects' willingness to break with
worn-out
urban design strategies. They aren't
scornful
of the building's history; nor do they treat it with
undue reverence
. With the precision of surgeons, they cut out
ugly tumors
and open up
clogged arteries
. In doing so, they suggest a way forward for a city in which preservation is all too often a form of
embalmment
. Lincoln Center has never had the best karma. Conceived as part of a 1950s-era
slum-clearance
program, the immense
superblock
required the demolition of an entire neighborhood of dilapidated tenements and brownstones. When it was completed, the
watered-down classicism
of its travertine buildings seemed to capture all the anxieties of the
cold war period
, its confused stylistic references camouflaging a kind of
emptiness
."
"Rather than demolish Tully Hall or conceal it behind a new facade, Diller Scofidio & Renfro gleefully
carve
it up. They begin by
tearing off
the old staircase and elevated plaza. The upper floors are
stretched
out toward the edge of Broadway, creating more room for dance studios inside and a forceful presence along the avenue. A new
incision
between the building's first and second floors rises up at its southeast corner to
expose
the lobby to the street, suggesting the building has been
sliced open
with a can opener. This
step-by-step
approach has sometimes given the work of these architects a
diagrammatic
quality, like a couple following numbers on a dance floor. But here they use it to their advantage, artfully
sidestepping
the
tiresome
old
dichotomy
between
preservation
and the
wrecking ball
. It's a subtle
knock
at those who define good and bad in terms of a period or
style
rather than through a direct
emotional engagement
with an individual work. Think something is
ugly
? Look closer. There may be moments of
unexpected beauty
inside."